June 13, 2018
Father's Day Gift Ideas : Get a 20% Discount On Us!
By Sara R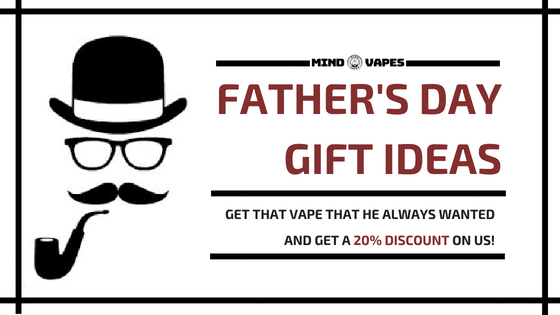 Father's Day is a celebration that gives recognition to the fathers and the father figures that make our lives. A part of what makes the celebration memorable is that we make special efforts for our dads by buying them gifts regardless of our culture and traditions. Father's day gifts are good in stressing the importance of their role as a father and what a better way to make it even more heartfelt by giving dad something that will make this day unforgettable!
If your dad vapes, then you came to the right place. This Father's Day, make him feel that he is and will always be your  #1 by finding a brand new vaporizer that he will thank you for! Here at MIND VAPES, we are giving you our top Father's Day Gift Ideas that'll serve as your guide in finding that new vape that dad will enjoy!
An Award Winning Vape Pen for an Award Winning Dad!
Being one of our featured brands, The Kind Pen is known for creating award-winning vaporizers that are designed for herbs, oils and liquids, a perfect choice for an idealistic dad!
A New Way to Vape for Dad!
Pod Vapes are indeed the future of vaping! If dad has finally made that decision to quit smoking and switch to vaping, getting him a pod vaporizer will be a good start!
A Trusty Grinder to Complete his Vaping Arsenal
Trust me, vaping will only be half as fun without a grinder at hand. Get those dry herbs a high precision herb grinder to be all the back up he needs to achieve a good taste of vapor in every vaping sesh!
Shop Here. Shop Now!
While you are shopping for dad's new vaporizer, why not take advantage of our 20% DISCOUNT here at MIND VAPES. Just use the store code "DAD20" before you checkout!